Hello, fellow listeners!



It's so wonderful to share podcasts and updates with you again. The sun has started to come out in Portland this past week; it was like 88 degrees Fahrenheit for three days straight.

I also have ANNOUNCEMENTS:

First: last Monday, I launched my Patreon! If you'd like to support me while I do podcast reviews and also my thesis at the same time, you can do that there. It's only got two low tiers for now, but you can expect more exciting content after my thesis is done.

Second: May 20th (that's NEXT Monday), is my birthday. To celebrate both that, and also my slightly-late one-year anniversary of Audio Dramatic, I'm going to have a one-hour AMA Livestream on Twitter! If there's a question you'd like me to answer, feel free to reply to this newsletter or DM me on Twitter with the question and I'll answer it on the stream.
CASTING IT BACK - MINI-REVIEWS
Quid Pro Euro, Crime (episode 3): If you've ever seen and loved the British show Look Around You, you will totally love Quid Pro Euro. If you haven't, please picture a totally deadpan narrator guiding you through a hysterically incorrect and deeply satirical environment; in Quid Pro Euro's case, it's the European Union. Presented as a set of 1995 video tapes originally made from employees of the European Union about what they could expect to happen in the twenty-first century and now adapted into audio, Felix Trench (Wooden Overcoats) and Zachary Fortais-Gomm (The Orphans) have created a pointed and hilarious universe. I have been completely unable to stop laughing. [10:35]

Earth Break, Finally Dying & Pros and Cons (episodes 1&2): Lynn Gellert thinks she's the last person on Earth, dying from an alien virus, except it ends up that she's pregnant. Now it's just her and a voice recorder, and occasionally some animals, wandering around a deserted world and trying to avoid aliens. Usually pregnant women in post-apocalyptic scenarios are not front-and-center, or end up being only tools for tension and stress; I'm looking forward to how Lynn grapples with being pregnant and alone and constantly in danger, and hoping for a continued focus on Lynn making the best decisions for herself and no one inserting themselves in either a heroic or abusive capacity. [28:20 & 25:29]

Hometown, Lauren (episode 4): Hometown is meant to be a collection of personal, slice-of-life style stories from members of a small community, recorded by Kiera. "Lauren" is the tale of a woman who had it all, and gave it all up for her sibling. It's a small look into things like the state of health insurance and medical costs in twenty-first century America, via a story that's just removed enough to not hit too close to home but still familiar. I appreciate Hometown's focus on intimate stories, looking at fictional people in a way that feels real. [14:47]

Super Ordinary, Show Me Yours (episode 3.3): The third season of Super Ordinary has introduced Camp Safehaven, a place for superpowered humans to hide and live in peace, to learn how to harness their powers. "Show Me Yours" was one of the most touching episodes of Super Ordinary's run, witnessing Anika's growth in how she interacts with others who aren't Bailey, and the peeks of her potential. It also lays perfect groundwork for future conflict, which is a writing prospect that can get dicey the deeper into a series you go. [28:14]

Forest 404, A New Leaf (episode 6): Forest 404 is one of my favorite podcasts that's come out of the BBC recently; it's a political thriller that focuses sound at its core. After breadcrumbs laid down since episode one have led to the correct answer, "A New Leaf" is a brilliant realization of past and future meeting in the center of a tangled story. [22:14]

When Angels Visit Armadillo, Potential (episode 5): WAVA is the binaural tale of a reporter for a cryptids and aliens conspiracy online magazine investigating a potential alien capture and resultant mass hysteria in Armadillo, Florida. "Potential" is a beautiful moment in WAVA that shows how interviewing subjects and investigating facts of cases that leave deep marks on community memory can affect your own thoughts and feelings, sometimes absolutely for the better. [19:34]

The Last Show, Real Spook Hours: "The Machine" (episode 4): The Last Show, a comedic post-apocalyptic radio show out of Boston University, has made me literally laugh out loud with how it presents its conceit. It's totally absurd, leans into the bleak dark humor as needed, and extremely charming. The two hosts of The Last Show have no idea where they belong this terrifying new world, where sinkholes eat their radio station at will and something appears to be following them, but they can certainly continue to make fun of each other--as long as they follow the directives handed down from on high. [16:40]

Fangirls, Attack of the Road Trip (episode 2): I'm loving the influx of fan-based audio focusing on the experiences of marginalized folks; in this case, women in Star Wars fandom. Directly riffing on the Fanboys movie, Fangirls follows a group of friends on a road trip to a secret screening of Episode IX. What there is to love here is not just the love of Star Wars, but the love they have for each other, and how they talk about the problems with things like writing, motherhood, romance, and maybe something else when it comes time for the next episode. [17:57]

Mount Olympus University, PED205: Intercollegiate Sports, Part Two (episode 26): This is the first episode not hosted by Pandora at Mount Olympus University; some students of Grimm Anderson College have taken over the radio station and locked her out! Mount Olympus University has been such a wonderful escapist podcast, one that doesn't fool around with emotions and the complex reality of human relationships (even if everyone here isn't entirely human), but still manages to be light-hearted and friendly in its approach. [13:12]

Cybernautica, Between the Waves (episode 3): "Between the Waves" follows Jonny as she picks up with her contact and then picks up another contract with an old friend; this fantastical cyberpunk Neo-Atlantis does a marvelous job of digging into universe history while keeping the plot moving at a speedy clip. I appreciate stories that give me context and insight into the world around them while not forgetting why we are all here (mercenaries and the weird jobs they accept, what's not to love). [22:12]
SPOTLIGHT: MARSFALL
"CHAPTER 17 - CHIP"
This review does not contain spoilers. (I may post a spoiler-filled, longer version of this review on my website at a later date.)

Marsfall is an admirable podcast in so many ways, and absolutely one of my favorite science-fiction stories that exist in the world right now. It follows a group of colonizers after they have landed on Mars and the subsequent horrors they must grapple with, from within and from outside. They just released their season two finale, and I almost can't believe I'm saying this, but they have absolutely outdone themselves from the season one finale. I'm going to talk about two things in particular that stood out to me in this episode: the music and the approach to philosophical quandaries.

Marsfall's music has always been out of this world. Composer Sam Boase-Miller has a talent for giving life to a desolate wasteland like Mars, and it gives the music its proper place in this story, as its own character. While music is a core component of the plot and world-building, especially when it comes to Commander O'Rania, it is absolutely remarkable how Boase-Miller along with co-creates Dan Lovely and Eric Saras, have gotten such key symbolism attached to certain compositions with so few instances of their appearance (I'm certainly never listening to Bach the same way again). Music stands in Marsfall one of the ways into the question of what makes humans human, as a counterpoint to the other story-central creation of humanity, artificial intelligence.

The writing wades into the often-treacherous waters that are the interlacing between science, philosophy, and art, a common theme that crops up whenever artificial intelligence is front-and-center in science-fiction. This focus isn't ever a pointless argument or to proselytize a perspective or belief, but instead always integral to the next move of the plot and done in a comprehensible fashion. It can be easy to get lost in the weeds of the question of what makes us human. Marsfall doesn't ever lose sight of how complex a question it really is, while keying into one aspect that can help save the colonizers from immediate destruction and do so in a way that feels narratively triumphant, correct, and consistent.

Coupled with their incredible acting and their skill at dropping breadcrumbs for future seasons, Marsfall's season finale provides answers without the bows tied around them, triumph and defeat in balanced measure, and the pinnacle moments of dearly loved character relationships. This is a remarkable understanding of sound and story packaged inside forty minutes, and a respectful, realistic look at the horrors of space travel and uncharted worlds and the dangers intrinsic to seeking your utmost potential without regard for consequence.
Accession
is currently crowdfunding for their second season! Their
IndieGoGo campaign
seeks $2500 to cover their costs. The second season, Accession: Homeward, is seeking to discover what makes home a home through experiencing art across the United States on a road trip. The campaign ends
June 10th
.
Take a look at that second season art, too!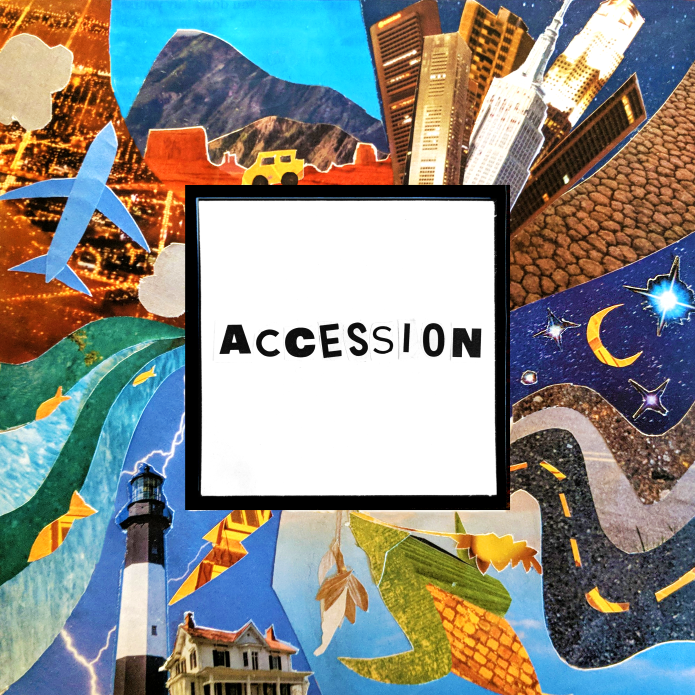 Fiction Podcast Debuts: April Roundup
20 Great True Crime Podcasts (That Aren't Serial + S-Town)
If you want to see more reviews, interviews, and other articles from me, you can support me over at my ko-fi account!
NEWS CLIPPINGS
Shenee Howard, the creator of
Fan Wars: The Empire Claps Back
, has launched a Patreon! If you love romcoms that can pack a punch in ten minutes or less, or you want to support Black creators, I highly encourage that you check it out.
---
PodTales
, a one-day festival in Boston launching in October, has
their exhibitor applications
open! I highly encourage you to check it out and apply to table there.
---
Childish: A Podcast Musical
, from Whale Bus, is
currently crowdfunding
for their production, seeking $2000. "Dante, a college student in NYC, who becomes in RA in order to follow in the footsteps of his hero, Childish Gambino. However, his delusions of grandeur are shattered when he meets his extremely dweebish co-workers."
---
Australian festival IndiePodFest
is
currently crowdfunding
for
their 2019 event
. Held at the Brunswick Mechanics Institute in Melbourne, this looks like it will be a wonderful way to support independent podcasters.
---
AIR Media's New Voices scholarship
is
open for applications
until May 31st. This scholarship provides mentorship and covers attendance for the Third Coast Audio Festival.
Marc Sollinger, co-creator of the compelling and beloved Archive 81, wrote this great piece on Electric Literature on how to write a fiction podcast.

This is a wonderful piece to pair with Sollinger's on how to build compelling worlds in audio fiction, written by Lindsey Eanet and featuring interviews and tips from the creators of The Bright Sessions, Hello from the Magic Tavern, and Please Save Me.

Wil Williams wrote a must-read article on empathy and Invisibilia's episode "The End of Empathy". Even if you don't listen to Invisibilia, this is seriously engaging work and research on empathy in our current era.

BY THE WAY,



I've been having a seriously wonderful time as the submissions editor over at Radio Drama Revival. I hope you check out what's happening over there--I was on the most recent episode! Alongside regular host David Rheinstrom, I co-hosted an interview with Lisette Alvarez, creator of Kalila Stormfire's Economical Magick Services. Lisette is sharp, insightful, and a blast to hang out with.

If you'd like to ask me questions or comments, you can reply to this newsletter (it goes directly to my email!) or reach out to me on Twitter.

Happy listening,
Ely