Apr 17, 2019
What Can You Expect from Dental Sedation?
Sedation dentistry is the practice of using medication to help patients relax during their dental appointment. There are several different types of sedation dentistry ranging from inhaled to oral to intravenous. People who ...
Your Dentail Health Resource
Why Is the Appendix Important?
Doctors have long puzzled over the purpose of the appendix: The pinkie-size organ at the end of the large intestine is seemingly useless ...
Experience Life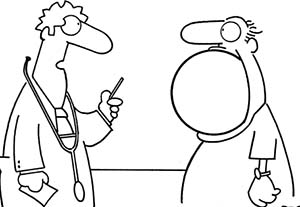 "Normally I don't recommend starch blockers, but this one really works!"


Copyright © Randy Glasbergen
Trivia
How did pound cake get its name?
See the answer below.
Is Carbonated Water Dehydrating?
No, says Ginger Hultin, MS, RDN, CSO, a Seattle-based dietitian, nutritionist, and health writer. "It's hydrating, like regular water ...
Experience Life
What Year Was It?
Apollo 13 Returns to Earth
With the world anxiously watching, Apollo 13, a U.S. lunar spacecraft that suffered a severe malfunction on its journey to the moon, safely returns to Earth.
The day was Apr 17. What year was it?
Quote of the Week
"Our bodies are our gardens - our wills are our gardeners."
William Shakespeare
Trivia Answer
How did pound cake get its name?
Answer: From the pound of butter it contained.
SUBSCRIBE TO OUR NEWSLETTER
NEWSLETTER ARCHIVES