Mar 20, 2019
The Importance of Proper Dental Care
There are some reasons why people avoid taking a proper care of their teeth – from skipping bushing due to lack of time to dental anxiety – and surprisingly these choices don't make one feel unusual. Our smiles are more valuable ...
Alternative Medicine
7 Self-Care Strategies at Work
If it feels like you spend more time working than ever, you probably do — and you're not alone. A 2014 Gallup poll notes that American ...
Experience Life
Everything you need to know about CBD
The cannabis derivative is being touted as a medical marvel, but does it really live up to the hype? ABC News' Brad Mielke explores the ...
ABC News
Adding Supplements to live Healthier
Many of us live hectic lifestyles, making it difficult to take time for healthy home cooked meals. We are trapped into eating on the run ...
Alternative Medicine
Is Turmeric Good For You?
Turmeric regularly features in health news stories and there's a raft of products based on the yellow spice now available, including ...
Coach Magazine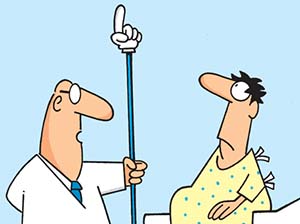 "Frankly, I don't enjoy prostate exams any more than you do!"


Copyright © Randy Glasbergen
Trivia
Who invented Hostess Twinkies?
See the answer below.
What Year Was It?
LBJ Sends Federal Troops to Alabama
President Johnson notifies Alabama's Governor Wallace that he will use federal authority to call up the Alabama National Guard in order to supervise a civil rights march from Selma to Montgomery.
The day was Mar 20. What year was it?
Quote of the Week
"Time And health are two precious assets that we don't recognize and appreciate until they have been depleted."
Denis Waitley
Trivia Answer
Who invented Hostess Twinkies?
Answer: James Dewar in 1931
SUBSCRIBE TO OUR NEWSLETTER
NEWSLETTER ARCHIVES