Hi friends,
We have seen political action heat up the summer even before we get to the dog days and peak holiday season. Caravans in the Netherlands to flat out riots in Sri Lanka are among the more visible signs of shifts happening globally, often representing the boiling point after years of less visible change. What it all adds to and on what timeframe? Nobody knows.

I got an email from a friend who incubates companies announcing a new tool to automate newsletters. Innovation chases after all of us :) I was glad to see it - it's great to have automation raise the bar and push individuals to have more original insight and well-written perspectives.
Today's Contents:
Good Reads: Sensible Investing
Good Reads: Trends
Weekly Song: Baby
Good Reads: Sensible Investing

Coatue's Presentations to Investors. Here from May 17, 2022. Despite their rocky performance over the last two years and their 'big regret of anchoring bias to the last 10 years', they are out raising a $2B "structured equity" fund, i.e., equity that looks a lot more like debt - sitting higher in the cap table with various downside protections - arguing that their brand isn't as a distressed investor. But that is changing fast.

It's a good summary of the market with a couple of lessons from Bear markets in the past. I've copied their jargon and translated it:
Be patient and beware of Bear market rallies = Don't buy the dip or get excited about a few days of rebound.
After P/E reset, earnings revisions will accelerate the sell out = This hasn't happened yet but will probably happen in the next month as companies report their Q2 results.
Low quality leads the sell off but the "Generals" need to go down also = Apple, Amazon, Alphabet, Meta, Nvida, Microsoft also need to reprice (and they have).
Correlation of 1 sell-off mark final capitulation = They will call the bottom once every asset category is down a roughly equal amount.
I also appreciated their summary about the value of holding cash (even in an inflationary environment):




**Reminder for those taking 'structured' equity: "Earnings don't repay loans, Cash flow does."



Financial Bubble Era Comes Full Circle: An unstable encounter with a $50B stablecoin. Here from Matt Taibbi. TL/DR: Fantastic investigative reporting into Circle, the company behind USDC, the stable coin which is considered the most...stable? Credible? The picture he paints is pretty bleak. Here's how it ends:



In 2008, when reporters and investigators began pulling at the threads of terms like "

fully-hedged

" or "

triple-A tranche

," they often found there was almost no way to stop pulling, even if they wanted to. In fact, by the time people stopped pulling, the entire global financial system was basically a pile of string. It may very well be that the same experience awaits anyone who pulls at threads like "

100%-backed

" or "

secure wallet

" or other such catch-phrases from any one of dozens of crypto companies.

In other words, these issues may not be unique to Circle. But make no mistake: this is the definition of an "opaque ledger." If every crypto company will struggle this badly to answer basic questions like 'Where's your money?' or 'What's your risk?', the storm hasn't even started yet.

Voyager's Bankruptcy Court Hearing PowerPoint. Here in a Twitter thread.

Interview with Michael Gibson, 1517 Fund. Here. 1517 Fund is an outgrowth of the Thiel Fellowship and might be the best under-discussed pre-seed/seed firm. I'd rather co-invest with them than YC.

On what they look for: That insider-outsider trait is something we keep an eye out for. Another is something we call "Friday Night Dyson Sphere." A Dyson Sphere is this idea the physicist Freeman Dyson had about a giant sphere of solar panels that could absorb all the energy emitted by the sun. That's about as ambitious a project as you can get. We love when we meet people with that kind of vision.

The Thiel Fellowship, which offered $100K to college-age students who were willing to drop out to pursue their companies, is a resounding success. I haven't seen any data on it. I don't need to. I've seen enough big winners.

Elon's Out. Musk Lost Interest in Pretending to Buy Twitter. Here. I've stopped writing about Elon because it's unbecoming how much I don't like the guy. But if Matt Levine can write an emergency Saturday column, it is indeed a special occasion.

US Households are Dipping into Savings. Idea from Grit Capital in their newsletter here. The COVID-19 era phenomena are reverting to the mean and in some cases, correcting further.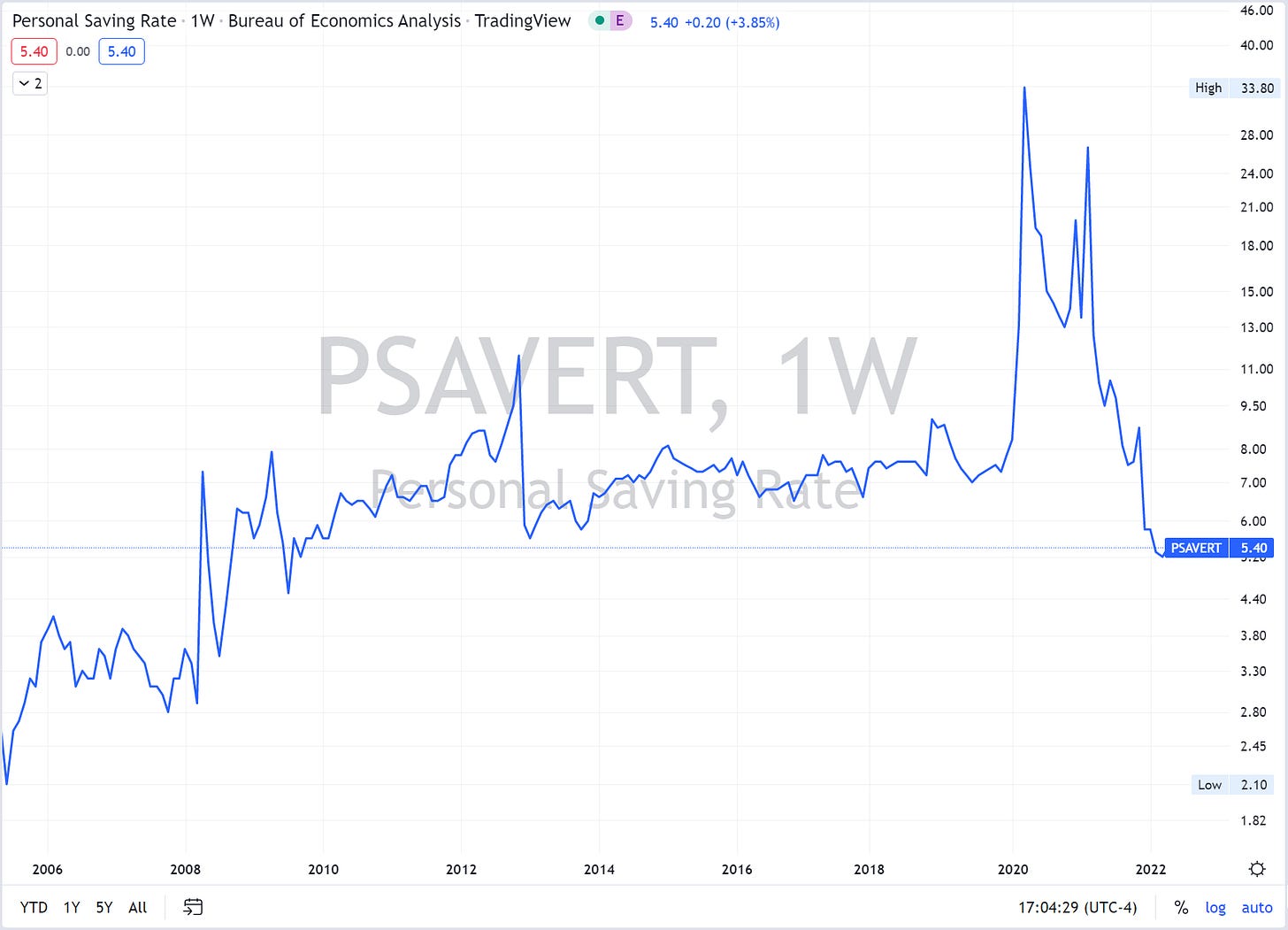 Good Reads: Trends

The Network State. Here. A book by Balaji Srinivasan, a web3 leader and former CTO at Coinbase. The idea is pretty simple. His description in one sentence: A network state is a highly aligned online community with a capacity for collective action that crowdfunds territory around the world and eventually gains diplomatic recognition from pre-existing states.



The network state is a radical and powerful idea, maybe one whose time has come. As I'll tick off below, nation states around the world are in upheaval. Systems of traditional governance are losing credibility and legitimacy. There have to be alternative options to what we have today. Getting there is going to be messy.

Round up of political news this week:
Sri Lanka has completely collapsed. Here is a video of citizens storming the presidential palace.
Albanians are taking to the street to protest their government here.
Former Japanese Prime Minister Shinzo Abe was assassinated at a political rally. His was the second death by gun violence in Japan in 2022.
We already talked about Dutch Farmers.
Boris Johnson is out. The best piece I've read is from Janan Ganesh in the FT (who is more generally one of the best opinion columnists - fantastic writing and a point of view that you might not agree with but certainly helps you make sense of the world).

The nation that laughed itself stupid: Boris Johnson has exposed the costs of Britain's addiction to humor. Here.
He writes:

In fact, it was the natural outcome of the humour that is the nation's favourite thing about itself. A democracy giggled its way into crisis. A man who once agreed to abet what he thought was going to be the assault of a journalist was allowed to banter his way to the top. It happened on panel shows. It happened in print. Politics is always downstream of culture, and British culture's biggest liability is its nihilistic un-seriousness. A comic nation is not such a bad thing. A tragicomic one is. Martin Amis said that embracing frivolity was Britain's way of dealing with post-imperial decline.

Look, I have lived in Washington: I understand the drag of earnestness. And humour, as Chaplin knew, is the scourge of the tyrant. No electorate with a sense of the absurd would obey a moustache-twirling goon in epaulettes. But humour can land you with a different kind of national ruin.

The Guru Burns Out: Mark Manson sold 12 million copies of his self-help hit. Then he started taking his own advice. Here.

Perils of Audience Capture: How influencers become brainwashed by their audiences here. TL/DR: Influencers often get pushed to extremes to maintain audience engagement and virality. I'm not going to share the featured picture because it's one of those that you cannot un-see.

Nikocado, molded by his audience's desires into a cartoonish extreme, is now a wholly different character from Nicholas Perry, the vegan violinist who first started making videos. Where Perry was mild-mannered and health conscious, Nikocado is loud, abrasive, and spectacularly grotesque. Where Perry was a picky eater, Nikocado devoured everything he could, including finally Perry himself. The rampant appetite for attention caused the person to be subsumed by the persona.

We often talk of "captive audiences," regarding the performer as hypnotizing their viewers. But just as often, it's the viewers hypnotizing the performer. This disease, of which Perry is but one victim of many, is known as audience capture, and it's essential to understanding influencers in particular and the online ecosystem in general.
Weekly Song: Baby


Music video here.

It's such a coming-of-age song. Justin Bieber was still a baby. He was the first star discovered on You Tube. We were living in (relatively) innocent times. Baby was released as the lead single on Bieber's debut album.

I love the little commentary after each line "Yo, uh-huh". May everything be so simple as middle school courting.

"Baby" by Justin Bieber & Ludacris
You are my love, you are my heart (Yo, uh-huh)
And we will never, ever, ever be apart (Yo, uh-huh)
Are we an item? Girl, quit playin' (Yo, uh-huh)
We're just friends, what are you sayin'? (Yo, uh-huh)
Said, "There's another" and looked right in my eyes (Yo, uh-huh)
My first love broke my heart for the first time, and I was like (Yo, uh-huh)

Baby, baby, baby, oh
Like baby, baby, baby, no
Like baby, baby, baby, oh
Thought you'd always be mine, mine
Thanks for reading, friends. Please always be in touch.

As always,
Katelyn