Social Media 'Springtime Snowman Challenge'
Saturday March 26 10 - noon
Snow people face enormous challenges when it comes to climate change - stunted growth, drastically shorter life spans, and their eyes and noses fall off when they get overheated! They want our help to speak up for climate solutions in Congress that will get us to a 50% reduction in emissions by 2030!



Here's an action you can do as a group (church, with CCL MSU club, etc.) or with your kids on your front lawn or favorite snow patch.

It's fun! Make a sign, build a mini snow person, take a photo or video, and post on social media with @cclmontana tag! We'll send it to our Members of Congress and the President!

Sign up for the Snowman Challenge HERE


 

Thanks for joining the Snowman Challenge!

1. Make a sign for them to hold to help them express their
challenges (My future is melting away!)

hopes (#bipartisansolutions or #50%by2030)

favorite climate solution (a solar panel on every roof, #pricecarbon)

What they want to say to Congress and the President (Sens. Tester and Daines: work together for snowkidz!)
See more examples from other Snowman actions in Utah and NY focused more on their Senators here: Snwmen 4 Carbn Pricng on twitter @pricecarbonplz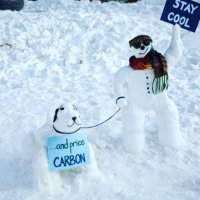 2. On March 26th Saturday morning, scoop up whatever snow is left wherever you are and make a snow person

3. Take a picture or make a short video while building your snow creation and explain your snowperson's views

4. Post to your accounts on Twitter, Instagram, and/or Facebook! Don't forget to include @cclmontana and various hashtags like #bipartisanclimate, #climateaction, #climatesolutions, #climateadvocacy Not on social? Send your photo to Bozeman@citizensclimatelobby.org

5. Go to @cclmontana on FB, IG, or Twitter to see, like, and comment on everyone's creations! We'll send them all on to our Members of Congress!

Tips for groups:.
1. Use decorations that you don't have to clean up and are animal friendly, like black sunflower seeds or mini carrots
2. Use lawn stake flags with the @cclmontana for your message. or have a sign making party in advance
3. Suggest people bring 2 pairs of mittens or gloves!
4. Have snacks
Calling All Anglers and River Enthusiasts!
A presentation for anglers, river-lovers, and conservationists interested in connecting with this community.
Monday March 21st at 6pm

REGISTER: https://fishing-conservation-action.eventbrite.com

Calling all anglers! Learn how climate change is threatening cold water fisheries and how you can take concrete action to turn the tide!

As someone who loves river recreation, you may ask yourself: "How do I take action for conservation?"

Hint: It's more than just protecting our favorite fisheries.

What do you say on the phone call or email to your Member of Congress or key influencer (donor) to motivate them to take action to ensure our national treasures, our rivers, stay cold, clean, open and accessible?

If you would like additional info on this critical subject to all of us fly fisherman (and river lovers) then join us on March 21st at 7PM mountain time to hear SE Idaho's veteran fisherman and Lifetime Trout Unlimited member Paul Hancock.
Be ready to take part in primary elections this year. First, check your voter registration status using the "My Voter Pager":

https://app.mt.gov/voterinfo/

If you are not registered or if you need to update your registration, you will find links on this site to help you.

Important dates:
May 9, 2022: Close of regular voter registration. (Registration forms postmarked by this date and received within 3 days are accepted for regular registration.)
May 10, 2022: Late Registration begins - Primary Election
May 13, 2022: Date ballots are mailed to electors on the absentee list.
June 6, 2022: Late registration ends at noon (or when all individuals in line at 12:00 p.m. have registered)
June 7, 2022: Primary Election. Polls close at 8 pm
Featured CCL Montana Success
Big Sky Resort Endorses!!
We Are Sending a HUGE Thank You to Big Sky Resort
Big Sky Resort is one of our newest Montana endorsers of the Energy Innovation and Carbon Dividend Act. Known for its wide-open spaces and dramatic peaks, Big Sky Resort is located about an hour south of Bozeman. It is the second largest ski resort in the United States by acreage.

Boyne Resorts, based out of Michigan, owns Big Sky Resort and 12 other mountain and lakeside resorts, ski areas, and attractions spanning from British Columbia to Maine. Boyne endorsed the Energy Innovation and Carbon Dividend Act in June 2021.

A recent article in Michigan Live, "Michigan ski resort chiefs call for climate action, reduce own emissions," mentions Boyne executives, along with others, who say sustainability efforts may help offset operational carbon footprints, but bigger, systems-wide actions are needed, including a federal carbon tax.

Congratulations to the Montana Endorsement Team for connecting with Big Sky Resort and gaining this important show of support for carbon pricing.
Montana CCL Upcoming Meetings
Montana Print Media Team
Next meeting: Thursday March 17th at 12 pm noon. Link and Information will be on the Montana Media Team page.
This statewide group shares ideas for letters to the editor, helps with editing, and offers support for regular submissions to local media.
We have active newspaper readers across the state except for a few key papers. We are looking for readers of the Helena Independent Record, the Ravalli Republic, and the Havre Daily News to help us submit letters. If you read these, please contact Mary at Missoula@citizensclimatelobby.org

Montana Endorsement Team

Next meeting: Tuesday March 15, 2 pm. Link and information on the Montana Endorsement Team page.
This new statewide group seeks endorsements for effective climate action from Montana businesses, prominent individuals, and organizations. Join us! Contact Angie Winter at FlatheadValley.mt@citizensclimatelobby.org

Montana Chamber Outreach Team

We are planning on regrouping in April. We have one presentation planned for March. If anyone wants to connect with their local Chamber of Commerce and share the U.S. Chamber of Commerce's position on climate change with them as an "icebreaker" that would be a good volunteer activity.
Email Robin Paone to get connected: FlatheadValley.mt@citizensclimatelobby.org

Go to your chapter page on the CCL Community Website to find the event listing.

BILLINGS
Chapter Meeting Wed. Mar. 9, 7pm
Tabling at the Artwalk Fri. April 1, 5-9pm
Contact: Lori or Marya at Billings@citizensclimatelobby.org
CCL Community Chapter Page: MT Billings

BOZEMAN
Bozeman CCL Chapter meeting Mon. Mar. 21, 7 pm
CCL MSU Club Next meeting: Thursday Mar. 10th at 6 pm in 149 Norm A Hall (Meets every 2 weeks)
March 26th - Snowman Challenge 10 -12 noon, Register HERE for updates on location
Contact: Kristen or Emma (for MSU) at Bozeman@citizensclimatelobby.org
CCL Community Chapter Page: MT Bozeman

FLATHEAD VALLEY
Action meeting Tues. Mar. 15, 12 noon, Online
Climate Beers Mon. Mar. 7th, 6:30 pm at Bias Brewing, 409 1st Ave E, Kalispell
Trail Walk Sun. Apr. 3rd, 2 pm at Lone Pine State Park. Meet at visitor center.
Contact: Robin or Angie at FlatheadValley.mt@citizensclimatelobby.org
CCL Community Chapter Page: MT Flathead Valley

HELENA
Chapter meeting Wed. Mar. 16, 5 pm
Contact: Kristen at Bozeman@citizensclimatelobby.org
CCL Community Chapter Page: MT Helena

MISSOULA
Chapter meeting Wed.. Mar. 9th, 12 noon
Contact: Mary or Dave at Missoula@citizensclimatelobby.org
CCL Community Chapter Page: MT Missoula
---
Get online for meeting Info and more
Some links not working?
Citizens' Climate Lobby uses a private website, CCL Community, for trainings, resources, organizing and communicating:
https://community.citizensclimate.org/
Log in by clicking the link at the top of the window.
What's my login?
All volunteers who have joined CCL automatically receive a CCL Community account and password. If you're having problems getting in, email
membership@citizensclimate.org
You can get help on other issues:
https://community.citizensclimate.org/help
Welcome to our "Insider's View"
You will find a whole world of information on CCL Community! Meeting details, training, resources, and an active community on the forums. Take a look!
February Monthly Call and Policy Update
March Speaker
Watch a conversation with Dr. Jennifer Carman, Yale Program on Climate Change Communication.

If politicians are paying more attention to the climate issue than ever before, perhaps it's because their constituents are more concerned than ever before. Earlier this year, a survey from the Yale Program on Climate Change Communication showed that those who are "alarmed" now represent the largest segment of Yale's "Six Americas." Our guest this month is Jennifer Carman, postdoctoral associate with the Yale Program, whose research focuses on identifying and supporting behaviors that individuals and communities can take to adapt to both short- and long-term climate change impacts. She joins us for a conversation on how opinions and attitudes have shifted in recent years, lending more urgency for politicians to take action on climate change.
Policy Update
As you might im
agine, Congress is busy right now with Ukraine, getting a Supreme Court nominee over the finish line, appropriations, and more. But as Majority Leader Schumer said this week, "A lot of discussions going on among senators," referring to Biden's climate bill. As a staffer told our D.C. staff: Nothing is dead when we're one vote away from passage in a bicameral legislature and a separate executive.
So let's hold Democrats to their pledge of urgent climate action (50% reduction by 2030), and praise Republicans when they support bills related to climate, like Senator Daines voting for the Growing Climate Solutions Act.

Become a Monthly Evergreen Donor
Small monthly donations = big annual impact for the climate. And if we reach $15K in new monthly donations by March 31st through our #trashyourcash fundraiser, we get a $150K bonus gift from an anonymous donor! Can you chip in $5, $15, or $25 a month to help ensure that strong climate provisions stay top priority and get passed into law in 2022?
#climate #climatechange #contribute #donate #give #climatecrisis

Invite others to support our work on Facebook, Instagram, Twitter, and LinkedIn!
Conservative Climate Leadership Conference in Washington D.C. March 29-30
Citizens' Climate Lobby is hosting this in-person leadership conference where attendees will rub elbows with Republican members of Congress, meet fellow members of the Eco Right, and learn how to become a conservative climate leader. Sign up at cclusa.org/conservativeconference.by March 18th. Scholarship applications due March 8th.

Not conservative? Consider sharing the conference website with your conservative and right of center friends.

SAVE THE DATE: CCL National Conference in D.C June 11th-13th

Always excellent speakers and climate cameraderie! The plenaries and several breakouts will be live streamed. Some scholarships are available for BIPOC and Right of Center volunteers. Local chapters may be able to help with expenses, too. Registration opens March 12th!
CCL Montana Earth Day: DROP Film and Panel

Wednesday April 13 at 7 pm
REGISTRATION: :https://citizensclimate.zoom.us/meeting/register/tJMudeCorjwiGdIUZ0TwHvmlIvBsr7VZ10sk

The Drop film by Hilary Hutcheson follows a single drop of water on its journey from the Continental Divide to the Pacific Ocean, showing how changes to the climate may derail that journey with massive consequences.. After the short film, stay for a discussion with our panel:
Hilary Hutcheson: Nationally recognized in the fly-fishing guide industry. Owner of Lary's Fly & Supply
Hilary Lindh: World Champion and Olympic Medalist Alpine Ski Racer. Program Director and Head Coach, Flathead Valley Ski Education Foundation.
David Brooks: Executive Director, Montana Trout Unlimited.
---
Climate Change in Greater Yellowstone's Watersheds

Dr. Cathy Whitlock Tuesday, March 8, 2022 at 7:00PM
REGISTRATION: https://attendee.gotowebinar.com/register/8511245164620188173
Current warming in the Greater Yellowstone region exceeds that of the last 20,000 years and is projected to accelerate in the future. What will be the consequences to our snowpack, our waterways, and our forests?
One of the many Gallatin Valley Earth Day events!

---
What Can Be Done About Climate Change, and How Much Will it Cost?

Dr. Richard Ready Tuesday, March 22 at 7 pm
REGISTRATION: https://attendee.gotowebinar.com/register/4804758482046075408
What are the things that we can do to slow and even reverse climate change? Which actions are more effective? Which actions are less expensive? In this talk, Dr. Ready will discuss different tools that we already have in our toolbox to reduce and reverse greenhouse gas emissions.
One of the many Gallatin Valley Earth Day events!
Canada's Carbon Tax on Volts podcast:
This is a really good description of how Canada got their policy passed. Worth the listen. Warning it is a few minutes over an hour.
https://www.volts.wtf/p/volts-podcast-gerald-butts-and-catherine?utm_source=url
---
Did you miss last month's newsletter? Find it our archive here:
Newsletter Archive