Like to meet new people? We need you! Learn how to provide new members a warm welcome to Montana Citizens' Climate Lobby.

Join us for a dynamic Onboarding Training session led by CCL Field Director Elli Sparks with help from Montana CCL chapter leaders Angie Winter and Mary Mulcaire-Jones.
This training promises to be informative, interactive and lots of fun as we explore together how to bring new volunteers onboard in our chapters where they can take action and help us build political will.

WHEN: Thursday, January 20th at 7 PM, MST
WHERE: Online via Zoom
RSVP: HERE (log in to your account on CCL Community)

Questions? Please contact
Mary Mulcaire-Jones Missoula@citizensclimatelobby.org
Angie Winter FlatheadValley.mt@citizensclimatelobby.org
Join our New Endorsement Team!
City of Whitefish. Bridger Bowl Ski Area. High Plains Architects. Hilary Lindh. What do these entities have in common? They have all endorsed the Energy Innovation and Carbon Dividend Act!

Endorsements are important because they influence our MOCs to support carbon pricing – jumping on the proverbial bandwagon!

We have recently launched a new state-wide Endorsement Team, and our members have visions of obtaining support from the City of Kalispell, faith leaders, physicians, Community Colleges and businesses within the outdoor industry, just to name a few.

Securing an endorsement involves working as a team to narrow down the most promising targets, learning about them, then planning a strategy to meet. Meetings can be done independently or by pairing up with a buddy. You can coordinate the whole process from start to finish, or add your talents to just one element.

We meet once or twice a month to share progress and learn from each other. Does this sound tailor-made for you? Join us! Contact Angie Winter at FlatheadValley.mt@citizensclimatelobby.org.
Montana Print Media Team
Next meeting: 12 noon on Thursday January 20th. Link and Information will be on the Montana Media Team page. This statewide group shares ideas for LTE's, helps with editing, and offers support for regular submissions to local media.

Montana Endorsement Team

Next meeting: 2-3pm Wednesday January 26th
This new statewide group seeks endorsements for effective climate action from Montana businesses, prominent individuals, and organizations. Join us! Contact Angie Winter at FlatheadValley.mt@citizensclimatelobby.org

Montana Chamber Outreach Team

Join a fun group of us MT CCL volunteers in contacting your local Chamber of Commerce. Email Robin Paone at FlatheadValley.mt@citizensclimatelobby.org to get connected!
Instagram and LinkedIn users: post your Climate Resolution to the Votes for the Planet instagram account and win up to $500! Find out how to do it here, on CCL Community's social Media Action Team here, or visit our MT CCL Instagram post!
On Twitter? Like, Reply or Retweet this Tweet


Read these Letters to the Editor by Montana CCLers!

"Climate change impacts are here" by Alex Amonette and Mary Mulcaire-Jones, Glendive Ranger Review 1.9.22

"In response to the power of listening", by Mary Mulcaire-Jones and Alex Amonette, Sidney Herald 1.8.22

"Legislation can help us deal with climate change", by John Noreika, Bozeman Daily Chronicle, 1.11.22
CCL Montana Chapter Meetings
Go to your chapter page on the CCL Community Website to find the event listing.

BILLINGS Chapter Meeting Wed. Feb. 9, 7pm
Contact: Lori or Marya at Billings@citizensclimatelobby.org
CCL Community Chapter Page: MT Billings

BOZEMAN Chapter meeting Mon. Jan. 17th, 7pm
Contact: Kristen at Bozeman@citizensclimatelobby.org
CCL Community Chapter Page: MT Bozeman

FLATHEAD VALLEY Action meeting Tues. Jan. 18th, 12 noon
Contact: Robin or Angie at FlatheadValley.mt@citizensclimatelobby.org
CCL Community Chapter Page: MT Flathead Valley

HELENA Chapter meeting Wed. Jan. 19th, 5:30pm
Contact: Kristen at Bozeman@citizensclimatelobby.org
CCL Community Chapter Page: MT Helena

MISSOULA Chapter meeting Sat. Feb. 12th, 10 am at the Missoula Public Library Omicron allowing
Contact: Mary or Dave at Missoula@citizensclimatelobby.org
CCL Community Chapter Page: MT Missoula
---
NO CHAPTER IN YOUR TOWN?
You're welcome to go to an online meeting in any of the other chapters!
January Monthly Call and Policy Update
Watch or listen to CCL's conversation w/ Jose Aguto, Executive Director of Catholic Climate Covenant and learn about the Pope's support of carbon pricing, and how your parish can join 400 others with Creation Care Teams like the one at Resurrection University Parish in Bozeman!

Then hear Jen Tyler, one of CCL's Directors of Legislative Affairs, share that the Build Back Better Act (BBB) is still alive and the Senate is involved in a new round of negotiations. Leader Schumer has promised to bring it to the floor for a vote. Sen. Manchin has not closed the door on a price on carbon and he finds the climate provisions to be the least controversial. BBB will, however, be put on the back burner for 2-3 months as the Senate tackles other priorities like voting rights, the budget, and funding the government.

Why push now? It's still an uphill battle for a carbon price, and the Senate and White House need to hear more from everyday folks. Just remember how far we've come: We got nearly all Senators on board for the largest climate investment in history.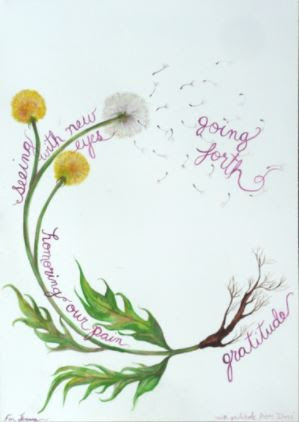 Climate activists can be grateful for all the progress that has been made and be brought down by the challenges yet to face. This workshop draws on a book by Johanna Macy and Chris Johnstone called Active Hope, to help you use your gratitude and grief to stretch, soften, and open yourself to new possibilities and restore your enthusiasm for climate activism.

See the list of workshop dates in January and February and sign up here.

For additional workshops and support, find the Resilience Hub on CCL Community.

CCL Community is a website just for volunteers. It has tons of trainings and resources on topics from lobbying, policy, how to approach different groups, to skills like how to write a letter or use twitter. You can also 'Connect with Others' on nationwide Action Teams

You may need to reset your password. If you have problems, contact membership@citizensclimate.org.

Interesting Reads and Such

Don't Even Think About It by George Marshall The psychology behind climate inaction.
American Nations by Colin Woodard The history of our divisions
Scope and Scale by John Doerr How to get to net zero

As You Sow website analyzing ESG investments

GHG Mitigation Strategies in Agriculture webinar, by Jenifer Wightman, Cornell University Amazing SMART tool to analyze effectiveness of GHG mitigation strategies.