Mar 11, 2020
Deplete Less From Your Retirement Account
Starting this year, according to a new law, people turning 72 will have to take out a chunk of their IRA or other retirement account. That's called a required minimum distribution, or RMD, and the amount you must withdraw depends …
Forbes
Can You Count on Social Security?
At some point in my young adulthood, I became aware that many millennials were skeptical that Social Security would still be paying …
Kiplinger
Take charge of your credit in 2020
By now, you've encountered the world of credit, whether it was renting your first apartment or figuring out how to pay for a kitchen …
ABC News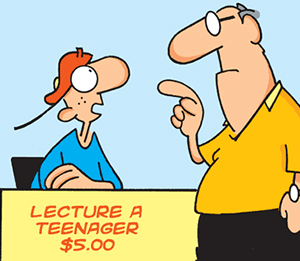 "I used to have a lemonade stand, but this pays better."


Copyright © Randy Glasbergen
Trivia
What is the average life span of the $50 and $100 bills?
See the answer below.
What Year Was It?
Paul McCartney Knighted
Paul McCartney, a former member of the most successful rock band in history, the Beatles, was knighted by Queen Elizabeth II for his "services to music."
The day was Mar 11. What year was it?
Quote of the Week
"Happiness is not in the mere possession of money; it lies in the joy of achievement, in the thrill of creative effort."
Franklin D. Roosevelt
Trivia Answer
What is the average life span of the $50 and $100 bills?
Answer: 9 years
SUBSCRIBE TO OUR NEWSLETTER
NEWSLETTER ARCHIVES