Dec 18, 2019
How to Set up a Trust Fund
If you've heard of trust funds but don't know what they are or how they work, you're not alone. Many people know just one key fact about trust funds: they're set up by the ultra-wealthy as a way to protect passing on …
Investopedia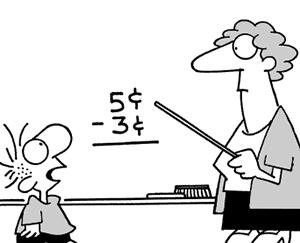 "Thanks, but I'd rather get my finacial advice off the Internet."


Copyright © Randy Glasbergen
Trivia
The third president is on the front of the US nickel. Who was he?
See the answer below.
Is Apple Pay Safe?
Apple Pay is a mobile payment system that was in use by close to 400 million people around the world as of …
Investopedia
What Year Was It?
Mayflower Docks at Plymouth Harbor
The British ship Mayflower docked at modern-day Plymouth, Massachusetts, and its passengers prepared to begin their new settlement, Plymouth Colony.
The day was Dec 18. What year was it?
Quote of the Week
"A wise person should have money in their head, but not in their heart."
Jonathan Swift
Trivia Answer
The third president is on the front of the US nickel. Who was he?
Answer: Jefferson
SUBSCRIBE TO OUR NEWSLETTER
NEWSLETTER ARCHIVES