Dec 4, 2019
7 Year-End Financial Planning Tips
As 2019 comes to a close, it's an important time to make sure your financials are buttoned up for the year. After all, there is no sense in losing out on money, paying penalties, or incurring additional taxes unless absolutely …
Forbes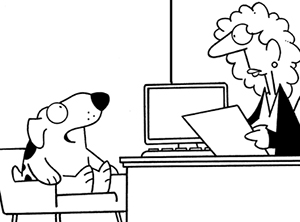 "If my mutual funds grow an average of 7% per year, then that would be 49% in dog years, right?"


Copyright © Randy Glasbergen
Trivia
When was Abraham Lincoln's face engraved on the penny?
See the answer below.
What Year Was It?
A Streetcar Named Desire Opens
Marlon Brando's famous cry of "STELLA!" first booms across a Broadway stage, electrifying the audience at the Ethel Barrymore Theater during the first performance of A Streetcar Named Desire.
The day was Dec 3. What year was it?
Quote of the Week
"Try to save something while your salary is small; it's impossible to save after you begin to earn more."
Jack Benny
Trivia Answer
When was Abraham Lincoln's face engraved on the penny?
Answer: 1909
SUBSCRIBE TO OUR NEWSLETTER
NEWSLETTER ARCHIVES