Oct 9, 2019
Save for retirement in your 40s, 50s, and 60s
It's not too late to start saving for retirement. Thirty-seven percent of all employees age 35 to 44, and 34 percent of employees age 45 to 54 have less than $1,000 saved for retirement, according to the Employee …
Fox Business
8 Ways To Make Your Money Greener
Teenage Swedish climate activist Greta Thunberg grabbed headlines in the U.S. last month when she traveled to the 2019 UN Climate Action …
Forbes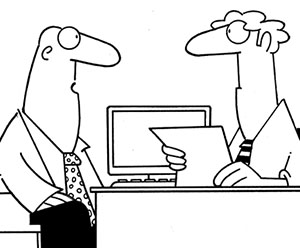 "Can I write off last year's taxes as a bad investment?"


Copyright © Randy Glasbergen
Trivia
Fill in the blank: Calvin Coolidge once said: "The _______ of America is business". Bridesmaid, backbone, business
See the answer below.
How to Avoid Emotional Investing
Active monitoring of a portfolio is important for navigating the changing tides of financial markets. Still, it is also …
Investopedia
What Year Was It?
Great Chicago Fire Begins
Flames spark in the Chicago barn of Patrick and Catherine O'Leary, igniting a two-day blaze that kills between 200 and 300 people, destroys 17,450 buildings, leaves 100,000 homeless.
The day was Oct 8. What year was it?
Quote of the Week
"Beware of small expenses; a small leak will sink a great ship."
Benjamin Franklin
Trivia Answer
Fill in the blank: Calvin Coolidge once said: "The _______ of America is business". Bridesmaid, backbone, business
Answer: Business
SUBSCRIBE TO OUR NEWSLETTER
NEWSLETTER ARCHIVES