Feb 26, 2020
Is Anything Wrong with Your Estate Plan?
A few years ago, I received a phone call from a woman understandably upset that she might not inherit any of her deceased father's large 401(k) plan, even though he was divorced and she was an only child. Unfortunately, about …
Kiplinger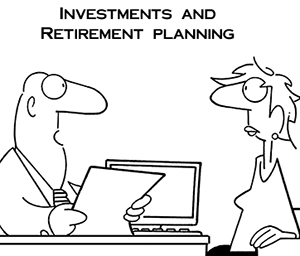 "Sure, it's possible to make good money from the lottery. Invest in the company that makes the cards."


Copyright © Randy Glasbergen
Trivia
Who supplied most of the copper for the first U.S. pennies to be minted?
See the answer below.
What Year Was It?
Two National Parks Preserved - 10 Years Apart
Two national parks were established in the United States 10 years apart. The Grand Canyon and the Grand Tetons.
The day was Feb 26. What year was it?
Quote of the Week
"Money is only a tool. It will take you wherever you wish, but it will not replace you as the driver."
Ayn Rand
Trivia Answer
Who supplied most of the copper for the first U.S. pennies to be minted?
Answer: Paul Revere
SUBSCRIBE TO OUR NEWSLETTER
NEWSLETTER ARCHIVES