Oct 2, 2019
Recover from a Pre-Retirement Financial Crisis
Having a personal financial setback when you're closer to retirement can be doubly stressful. You're dealing with both the financial reversal, and the realization that you have less time to earn the money back. Perhaps you had …
Kiplinger
Early Out: A Realistic Plan to Retire Younger
"Take this job and shove It," sang the (ironically named) Johnny Paycheck, a number-one hit on the singles chart back in 1977. It's a sentiment many people fervently share as they go about their workday grind. For many, retirement …
Investopedia
Save Money on Rental Real Estate
Does HGTV have you ready to jump into owning properties flipping homes, or just wanting to add more real estate to your investment …
Investor Junkie
Transfer IRA Money to an HSA
Did you know that you can make a one-time, penalty- and tax-free rollover of money from your IRA to a health savings account (HSA)? The …
Investopedia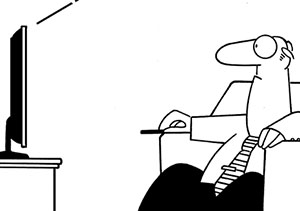 "In yet another political scandal, Freddie Mac has confessed to having an affair with Fannie Mae..."


Copyright © Randy Glasbergen
Trivia
Which one of the following was not invented by Thomas Edison: electric generator, phonograph, electric typewriter, or stock-ticker
See the answer below.
23 Investing Terms You Should Know
When you're a new investor, learning investing terms and their meanings can seem like a full-time job. Especially because …
Investor Junkie
What Year Was It?
Yosemite National Park Established
An act of Congress creates Yosemite National Park, home of such natural wonders as Half Dome and the giant sequoia trees.
The day was Oct 1. What year was it?
Quote of the Week
"Rule No. 1: Never lose money. Rule No. 2: Never forget rule No.1."
Warren Buffett
Trivia Answer
Which one of the following was not invented by Thomas Edison: electric generator, phonograph, electric typewriter, or stock-ticker
Answer: Electric generator (Michael Faraday)
SUBSCRIBE TO OUR NEWSLETTER
NEWSLETTER ARCHIVES