Sunday Morning Worship
at Runnymede United Church
January 2, 2022 @ 10:30 am to 11:30 am
In-Person and Live-Streamed service every Sunday Morning at 10:30 am.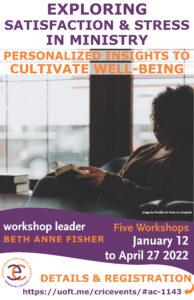 Exploring Satisfaction & Stress in Ministry: Personalized Insights to Cultivate Well-Being (Pathways for Wellness)
at Emmanuel College
January 12, 2022 @ 7:00 pm to 9:30 pm
Initial Workshop Date: Wednesday, January 12, 2022, 7–9:30 p.m. EST, Online

Follow-Up Sessions: January 26, February 23, March 30, April 27 (last Wednesday of each month, 7–8:30 p.m. EST/EDT, Online)

This course is for anyone working in a Christian vocational context who wants to explore how to protect the aspects of their ministry lives that nourish them and navigate the inevitable stressors along the way. It may be especially helpful to folks considering a job transition, experiencing an unsustainable level of stress or fatigue, or just getting started in ministry life.

In the initial workshop, Beth Anne Fisher will give an overview of the Malcolm Inventory for Satisfaction and Stress in Ministry (MISSiM), a statistically valid and reliable questionnaire she helped developed alongside Dr. Wanda Malcolm at Wycliffe College. Participants will learn how they can use their own personal data from completing the MISSiM to reflect, celebrate and assess their current ministry experiences.

Following the introductory workshop, Fisher will facilitate four monthly peer-group sessions of deeper MISSiM insight exploration and round-table conversation about satisfaction and stress in three areas of ministry life: Structural/Systemic, Interpersonal/Relational, and Internal/Personal. This pilot group at Emmanuel College will be limited to 12 participants.

This course requires one hour of advance prep time to complete the MISSiM prior to January 5, 2022, so that all participants can receive their personalized report before the first session. Cost is $200, but if booked by December 18, you can get an early-bird price of $150.  Upon registering and paying your registration fee, a code and link to the questionnaire will be emailed to you.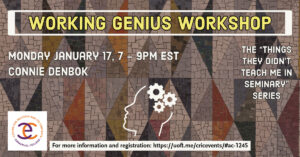 Working Genius Workshop
at online event
January 17, 2022 @ 7:00 pm to 9:00 pm
From the "Things They Didn't Teach Me in Seminary" Seminar Series at Emmanuel College
Monday, January 17, 7–9 p.m. EST, Online
Workshop Leader: Connie denBok, Lead Pastor of Alderwood United Church
The six types of working genius are those sweet spots where your gifts are not only effective, but you are energized. Of the six: Wonder, Discernment, Enablement, Invention, Galvanizing, and Tenacity, you have two that are life-giving, two in which you can be competent, and two which require greater effort for lesser results. Good leaders know how to build and combine groups for a team where all six are present. The work gets done. The time is well spent. The participants are motivated and find joy in their joint effort.
On Monday, January 17, Emmanuel College is offering a Working Genius workshop, based on the work of Patrick Lencioni. There will be specific application to working with volunteers. Participants will have completed the online assessment and be aware of their personal profile in advance. It is available on the Working Genius Website (Links to an external site.) at a cost of $25 USD.
Fee: $10
Details and Registration:
https://uoft.me/cricevents/#ac-1245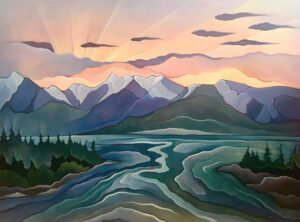 Soul Through All Seasons: Find the Courage to Flourish in Your Season of Life
at Rosedale United Church
January 24, 2022 @ 9:00 am to 4:00 pm
Facilitated by former United Church of Canada Moderator Mardi Tindal and Rev. Dr. Kristin Philipson, this in-person group will meet four times in 2022 (one day/season) on Mondays (January 24, April 25, July 25* and October 24) from 9am-4pm at Rosedale United Church in Toronto.
This retreat series is for anyone wanting to listen more deeply for the authentic and genuine within themselves; it is designed for anyone navigating a personal or professional transition where deep questions about your life and your living have presented themselves.
If you are looking to reconnect with your soul and your sense of purpose; if you long for space to reflect on important questions for your life and work; if you are discerning what is next for you; if you feel you're at a crossroads, then Soul Through All Seasons is for you!
Rooted in the Circle of Trust® approach developed by Quaker writer and teacher, Parker Palmer, and formed by the work of the Center for Courage & Renewal, Soul Through All Seasons is for anybody who wants to follow the leading and wisdom of their heart and soul in these challenging times, personally and professionally.
For more information visit
https://www.rosedaleunited.org/ministries/courage-and-renewal
To register, email Kristin Philipson at
kphilipson@rosedaleunited.org
.
*The retreat day in July will be held via Zoom to accommodate folks who are out of the city.